Surroundings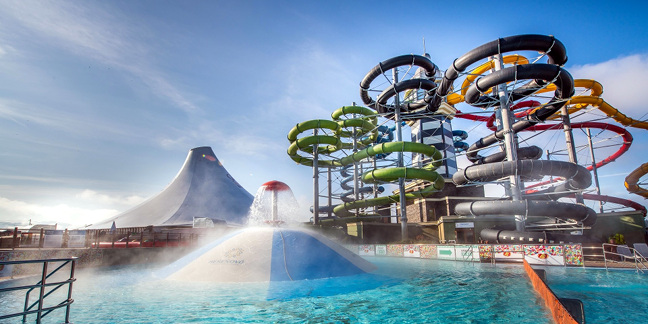 You can find current information about events and news in our neighborhood on our partner sites: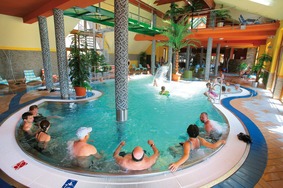 Gino paradise Bešeňová - only 5 min
An aquapark with geo-thermal and heated water open all year round. There are 12 pools, 9 slides, wellness centre and atractions for children. The geo-thermal springs reach a temperature of up to 61°C. The temperature of the water in the pools is 36-40°C and wells up from a depth of 1,987 m. It has beneficial effects on the kinetic and breathing systems, urologic problems and has favourable cosmetic effects.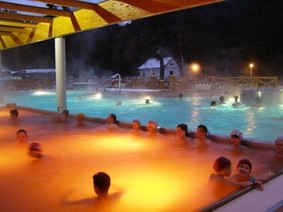 Aqua-Vital Park Lúčky - Kúpele - 3 km

Swimming pool in a well-known spa which offers indoor pool with mineral water, outdoor pools, attractions and sauna center.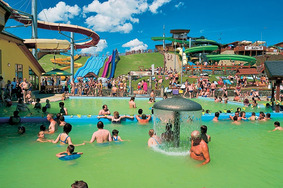 Aquapark Tatralandia - 25 km

The largest aqua fun park in Slovakia with 9 thermal pools, sauna world, 18 slides and play areas for children. To sit in a whirlpool under bare skies as snowflakes fall on your face lets you drift away into the world of romantic fairy stories. The aqua park doesn't stop there with what it has to offer. Parking, animation programs, sports areas, sun umbrellas, and many more things are free of charge.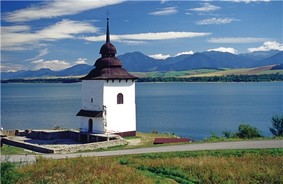 Liptovská Mara - 7 km

Liptovská Mara is well-known recreation center that attracts thousands of visitors every year. Bathing, windsurfing, yachting, rowing, water bicycles, minigolf, fishing, cruise on the sightseeing boat – all of these activities can be arranged at the campsite in Liptovský Trnovec on the northern shore of the reservoir.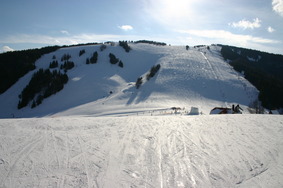 Malinô Brdo - Ružomberok - 11 km

12 km of ski slopes and plenty snow attractions. The longest slope is 3900 m long with an altitude difference of 698 m. The area offers excellent trails for cross-country skiing, hiking and alpine skiing. It is just a stone throw to an attractive village Vlkolínec, which is a traditional village of wooden houses listed in UNESCO.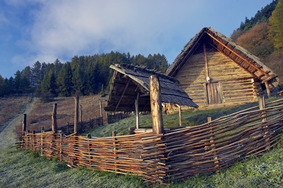 Havránok - 7 km

One of the oldest sites in the region Liptov. It is an archeological museum with reconstructions of wooden Celtic buildings and gorgeous views of Liptovská Mara and surrounding mountains.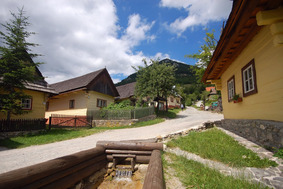 Vlkolínec - 15 km

Best preserved site of traditional architecture in Slovakia. This village with wooden houses was listed by UNESCO in 1993. Nowadays only 29 inhabitants permanently live in 18 of total 55 houses.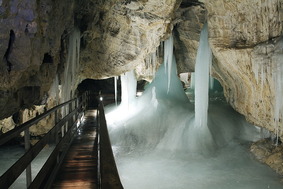 Demänovská jaskyňa slobody a Demänovska ľadová jaskyňa - 32 km

The two caves form the longest cave system in Slovakia. The ice cave is one of the oldest known caves in Europe, discovered in 1299. Also called the Dragon cave as the remains of a cave bear found there were thought to be dragon's bones. Today 10 types of bats live there. The cave of liberty is the most visited cave in Slovakia and is considered to be among the most astonishing caves in Europe.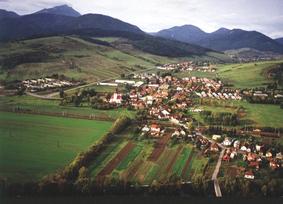 Hiking and biking

Summer is the best time to experience various atractions of the region. The most popular are trips to Choč Mountains (with following hills and valleys: Malý and Veľký Choč, Pravnáč, Sivý vrch, Prosiecka and Kvačianska valley), to High Tatras (Roháče – Baníkov, Baranec, Žiarska valley) and to Low Tatras (Chopok, Ďumbier, Prašivá, Jánska and Ľupčianska valley with Magurka). Liptov also offers plenty of bicycle paths with different degrees of difficulty.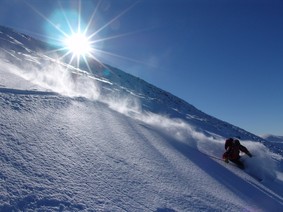 Jasná Nízke Tatry - 32 km

Skiing in the JASNÁ THE LOW TATRAS (only 30 min. by car), you can enjoy world skiing full of unrepeatable experiences in winter 2016/2017 on Mt Chopok's ski slopes. The largest ski arena with excellent conditions for winter sports in Slovakia offers perfect skiing, modern cable cars and a rich event programme. The ski resort was awarded by TEST WINNER 2016 as THE BEST ski resort above 60 km of slopes.
Why skiing with GOPASS bought by US? What can I get?
The cheap ski passes, cable car, Tatralandia or Gino paradise tickets. You don't have to queue at ticket offices anymore. We will arrange everything from our hotel. Collected loyalty points can be redeemed for discounts in resost and places marked "TU PLATÍ GOPASS".